Breakfast at the Loveless Cafe
Day: 3
Wednesday morning arrived quickly after our late night. We got up and drove almost 8 miles southwest out of the center of Nashville to have breakfast at the
Loveless Cafe
. Why this little rustic-looking dump? Because it's a Nashville landmark!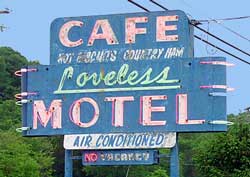 When do you think this sign was last painted?
The Cafe opened in 1952 as the Harpeth Valley Tea Room, when original owners Ron and Annie Loveless set up picnic tables and began selling fried chicken outside of their front window to travelers on the Northern Terminus of the
Natchez Trace Parkway
. Today the Cafe continues to be well-known for their fried chicken and "secret recipe" made-from-scratch biscuits.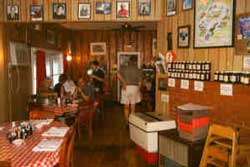 Now THIS feels like the South!
When you step inside, you realize that you aren't the only one who has visited. There are photos and autographs all over the walls of people who have sampled the food here. You want to eat REAL Southern food? This is the place to do it.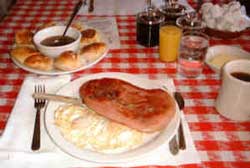 Don't forget the biscuits and gravy!
Amy ordered the sausage and eggs, while I had a country ham omelet. Of course, we also got our share of gravy and biscuits, along with a big variety of their homemade preserves (some of which we bought to take home with us). ABC's
Good Morning America
once named it "the best country restaurant in America."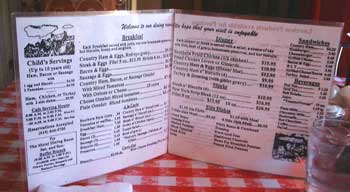 The menu is laminated in case you vomit on it
We sort of lucked out, as the day after our visit, the Cafe was going to close for 3 months to undergo renovations. The owners are going to rebuild the kitchen (which hasn't changed for 20 years), along with adding more seating and bathrooms. On the outside, the facility doesn't look like much.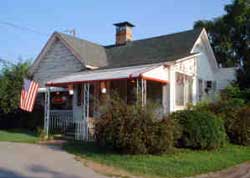 Just a creepy house on the side of the road
In fact, the attached rundown motel sort of reminds me of the Bates Motel from
Psycho
! However, it's well worth the trip for the experience and great food.
After leaving the Loveless, we headed back to the hotel, packed up our things, and checked out. But we weren't done exploring all Nashville had to offer. Not by a long shot!
Story Navigation:
Previous - 1 2 3 4 5 6 7 8 9 10 11 12 13 14 15 16 17 - Next