Hall of Fun
Day: 3
Our next stop was the
Country Music Hall of Fame
. This museum has been around since 1967, but recently moved into their new building in 2001.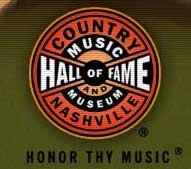 I like the slogan, "Honor Thy Music"
The architecture is very unique, with the outside windows of the building resembling piano keys. The tall steeple also pays tribute to the original antenna tower of
WSM-AM
radio, the home of the
Grand Ole Opry
. As fans of country and bluegrass music, we were looking forward to exploring the Hall of Fame.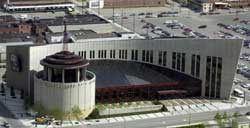 Interesting architecture
We found a pay parking lot nearby and walked over the building. Upon buying our tickets we actually opted for a special deal that included a tour of the
Ryman Auditorium
as well. You then take an elevator to the third floor of the building and work your way down. The concept actually reminded me of the old
DisneyQuest
we had in Chicago (now closed) where you are taken to a "new world" as you travel upward. A recording a
Reba McEntire
welcomed us to the museum during our ride in the elevator.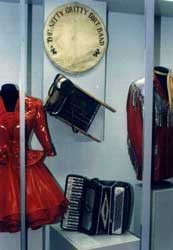 Exhibit on Nitty Gritty Dirt Band
Unlike a traditional museum structure where you tend to wander around for no reason (like my old favorite, the
Museum of Science and Industry
), the Hall of Fame takes a more modern, guided approach, forcing you to experience things in a certain order. The format is historical, walking you through the beginnings of country music to today. Along the way you can read information, view memorabilia, and even listen to archived recordings.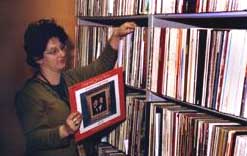 This archivist needs a makeover
The Hall of Fame is also home to the
Frist Library and Archive
which stores over 30 years of music, printed material, and merchandise. You can actually watch people restore old recordings into digital format for preservation. There is a LOT of stuff they have locked up there.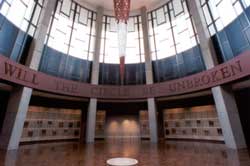 The Ring of Honor: Home of Hall of Fame inductees
I have to admit, I really didn't know much about the history of country music, so our visit was very educational. I didn't think I would be as interested as I was. The way the information was presented made it a lot more attractive to learn about. Overall, I really enjoyed the whole thing. You could spend a long time exploring if you want, or you could breeze through it. The whole place is setup to travel at your own pace.
Story Navigation:
Previous - 1 2 3 4 5 6 7 8 9 10 11 12 13 14 15 16 17 - Next