Mother Church of Country Music
Day: 3
From the Hall of Fame we walked on over to the
Ryman Auditorium
(another
Gaylord
property!). Now, I've always heard people talk about the Ryman, and even have seen it featured on television a couple times for award shows. But I never really understood what the big deal was. Well, we found out!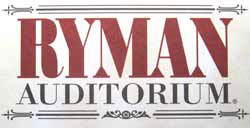 The Ryman: Mother Church of Country Music
It turns out the place was built by a riverboat captain named Thomas Green Ryman (born Oct 12, 1841) after he was converted by a southern evangelist (who decried gambling and drinking on riverboats and in Nashville). They found themselves a pastor to lead the city's revivals and the Ryman was opened in 1892 (with the original name of Union Gospel Tabernacle).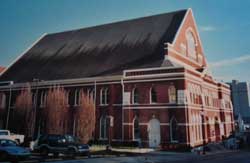 Still looks like an old church
Later on, the
Grand Ole Opry
, a live country show broadcast over the radio, needed a larger place to hold their audiences. The Opry arrived in 1943 and the Ryman was given the nickname as the "Mother Church of Country Music." (It still has stained glass windows!) Useless tidbit of information... the Indiana Church Finishing Company supplied the pews in the Ryman, which remain to this day. Experts say the Ryman's acoustics are second only to the
Mormon Tabernacle
, surpassing even
Carnegie Hall
. The pews are a large reason why.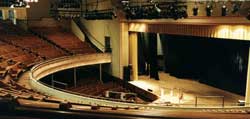 Good views from the balcony
By 1974, the Opry moved to its current home by the
Gaylord Opryland Resort
, thus leaving the Ryman vacant. Over the years, the Auditorium fell into massive disrepair. But, of course, our good friends at Gaylord purchased the property and in 1993 started a $8.5 million renovation. The Ryman reopened in 1994 as an active concert facility with modern amenities. However, the historical aspects were kept intact. For example, during our tour we were told that when they were restoring the pews, the workers were instructed to just remove gum and stuff, but leave all the dents and nicks.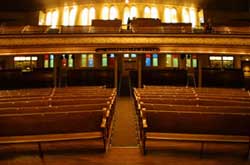 Yup, those are pews and stained glass windows
In 2001 the Ryman was declared a
National Historic Landmark
with roots in country music, but also where one can see all types of musical performances. It also acts as a sort of museum where you can take daily self-guided tours. We took one of these tours, as it was part of our admission to the
Country Music Hall of Fame
. It starts out with a short film, and then a tourguide explains some things. You then have the opportunity to step up onto the stage and get your photo taken with a guitar in hand (you can use your own camera or they have one they will use).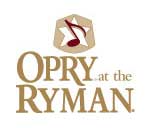 Unique winter event attracts many
You then can walk around yourself to a bunch of exhibits located at the rear of the facility and upstairs. While we were there, the Ryman was hosting "Opry at the Ryman", a series of weekend concerts that moves the Grand Ole Opry back to the Auditorium for a short period in the off-season months. Unfortunately, since we were visiting during the week, we didn't get a chance to see any Opry shows. But during our tour, there were technicians working around the building getting sound equipment ready.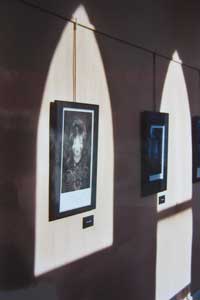 My favorite photograph taken during our trip
The 2nd floor also contained a gallery used for rotating art exhibits. While we were there, a series of black and white portraits was on display, taken by
Kenny Rogers
. I guess Rogers was putting together a photography book entitled
Your Friends and Mine
and the portraits on display were from those photo shoots. It was explained that Rogers hates having his photo taken, so when he approached each actor and singer, he asked for only 10 minutes of their time. To top that off, he only took 4 shots of each person onto an 8x10 negative. That's it. Whatever was taken was used. Pretty cool concept. And the photos were very classy. My favorite was of
Martina McBride
behind a veiled curtain.
Story Navigation:
Previous - 1 2 3 4 5 6 7 8 9 10 11 12 13 14 15 16 17 - Next