Homeward Bound
Day: 3
It was off to
Nashville International Airport
to return our Ford Focus rental car! On the drive we figured on filling up with gas, however it was unbelievably hard to find a gas station! Eventually after various exits off the expressway we tracked one down. Then before you know it, the Budget people had it and it was back to walking for us.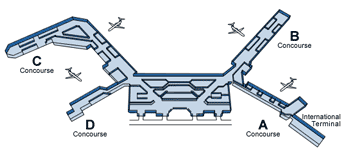 Nashville's airport looks like a spider, doesn't it?
We were hoping that the security check-in process at Nashville was going to be a whole lot smoother than it was at O'Hare, but just to be on the safe side, we got the airport with plenty of buffer time. Our
American Airlines
flight
798
was set to depart at 7:47 p.m., arriving at ORD at 9:20 p.m. By the way, what's the deal with O'Hare having an airport code of ORD? Shouldn't it be something like OIA for O'Hare International Airport or just CHI for Chicago? (Keep reading to learn about this!)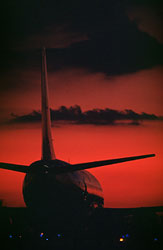 And so we wait... and wait... and wait
Upon finally arriving at our gate after security checks, we were welcomed by the classic airline industry message... our flight was delayed. I feel no compassion on failing airlines when they can't even live up to their advertised schedules. Why do we even have schedules? Maybe instead of posting times they should just say "we'll have about 4 flights going to Chicago throughout the day" and just stick to that. Otherwise, it's just silly.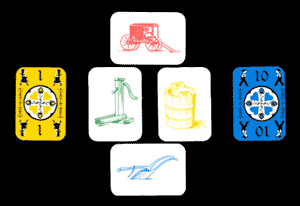 Time for some Dutch Blitz
Needing to kill a whole bunch of time (as it looked like we were going to be waiting 2 hours), Amy and I pulled out the
Dutch Blitz cards
. We played for quite a long time. I don't even remember who won the "best of" series. But it did a lot to pass the minutes.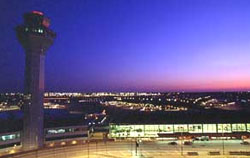 Nightfall at O'Hare
Finally we got on the plane and took off without additional delay. We arrived in Chicago pretty like, like 11 p.m. or so. My mom was kind enough to pick us up from the airport so we could avoid a lengthy train ride home. We walked into our apartment, unpacked our bags, and thought about going to bed. However, we were so wound up, we decided to watch a few episodes of
M*A*S*H
on DVD to chill.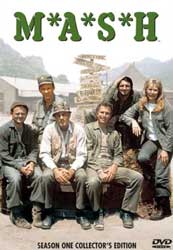 Highly recommended, even with no bonus features
So that was our extensive trip to Nashville. Unlike other adventures we've had, this was one of the first where we decided to stay in one place and explore in greater detail. We really enjoyed our time in Music City USA... it might even be fun to live in Nashville (assuming you like music, the South, and anything owned by Gaylord Entertainment!). Thanks for reading our little travelogue. It's just been fun to learn and share a little more about American culture. We hoped you learned something too.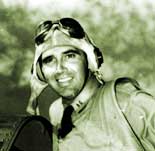 Edward "Butch" O'Hare
Oh, and by the way... are you still wondering about O'Hare's goofy-looking
ORD code
? OK, so here's the story. Once upon a time, before the editor and publisher of the
Chicago Tribune
,
Colonel Robert McCormick
, suggested an airport name change as tribute to pilot
Lt. Cmdr. Edward "Butch" O'Hare
, USN, there was an airstrip well to the northwest of Chicago with a quaint, peaceful name --
Orchard Field
.
Story Navigation:
Previous - 1 2 3 4 5 6 7 8 9 10 11 12 13 14 15 16 17